About Daniel
Daniel is 13 years old. He lives with his dad, mom, and older sister. He loves seeing his grandmother Lena daily and has many family members in South Africa and Australia.
Early Years
Daniel was born at term after an uncomplicated pregnancy. Still, his parents and the medical team knew right from the start that something was wrong. He had trouble breathing and was hypotonic, which resulted in poor feeding and led to a NICU stay of ten days after birth. Daniel underwent surgery for an inguinal hernia repair when he was only nine months old. Due to recurrent ear infections, he had several ear tube placement surgeries.

Daniel always seemed to be behind in reaching his milestones. When he was measured and found to be below the zero percentile on the growth curve at eighteen months, his pediatrician referred him to a geneticist, Dr. Cynthia Curry. She did a genetic workup and requested an MRI of his brain, which showed some features of the condition, Septo-Optic Dysplasia. Genetic testing was also done, which came back negative. Due to his small pituitary gland found on the MRI and his delayed growth, she referred him to Dr. Geffner, an Endocrinologist at CHLA, for treatment. He underwent several tests, resulting in the diagnosis of growth hormone deficiency. The treatment for this condition is a daily injection of growth hormones, which he started at age two.
Once Daniel started attending preschool, it was clear that he was quite different from his peers. He was extremely social, sensory seeking, and had trouble with impulse control. This behavior led to him needing extra support to stay on track and transitioning between different activities from an early age. Daniel started his Kindergarten year in a special day class with a 1:1 aide due to his increased need for support.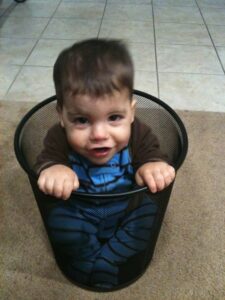 Diagnosis
Daniel was suspected of having Williams Syndrome due to his extreme hyper-social personality, but the test was negative. In 2017, after an article on PPM1D mutation was published, Dr Curry contacted his family to request additional testing. The test came back, and they finally had an answer. Daniel had a rare genetic disorder known as PPM1D at the time, as this was the gene affected. Very little information was available at the time, making it challenging to navigate Daniel's medical care and determine the need for therapies.
Likes
Daniel loves people – he makes friends everywhere! As a result, his family expects to stop and talk to several people when out and about with Daniel. He frequently gives hugs and compliments and is brutally honest. Daniel loves horse riding and enjoys building blocks and puzzles. He likes to eat anything crunchy and garlicky. Daniel's favorite place on earth is Disneyland.
Dislikes
Daniel intensely disliked distance learning. He prefers to be in a classroom where he can interact with his peers and teachers. Daniel does not cope well with loud noises or people in distress and gets upset when others cry or are sad.
Fun Fact
Daniel has traveled to South Africa several times and to Australia once. He was featured on America's Got Talent when he received an award at school and demanded louder applause from the parents in the audience.
Videos
Daniel on America's Funniest Videos