In the summer of 2023, the JdVS Foundation will bring our families together for the first JdVS Family and Medical Professionals Summit.
If you are fortunate enough to know any one of our uniquely special individuals affected by JdVS, you know what a magical and joyous experience the event will be for everyone involved.  This three day conference will bring together the JdVS Community in an inclusive, hope-filled environment to focus on our shared journeys. This time together will be spent sharing personal stories, bringing awareness to our rare disease, and discussing how we as a community can help drive research to better the lives of those living with JdVS. There will be childcare provided on Saturday and Sunday and a celebration for all ages on Saturday night. In light of recent years, we can better understand the value of human connection and this is even more profound for those living with rare diseases.
Fill out Interest Form
If you are interested in attending the summit, please fill out the interest form as soon as possible. This will help the JdVS Foundation plan for the event and make sure that we communicate with everyone who is interested in attending. Filling out the form does not mean that you are committing to attend.
Register
We are keeping the summit registration fees low so that as many families can attend as possible.
Early Registration Fees (by June 26)
First adult attendee = $50
Individual with JdVS = Free
Additional attendees (adults and children) = $25 per person
Childcare = $10 per day per child
Late Registration Fees (June 27 – July 3):
First adult attendee = $75
Individual with JdVS = Free
Additional attendees (adults and children) = $50 per person
Childcare = $20 per day per child
We want everyone to be able to attend the Summit so if you are not able to pay the registration fees for any reason, please email jdvsyndromefoundation@gmail.com.
Book Hotel by July 7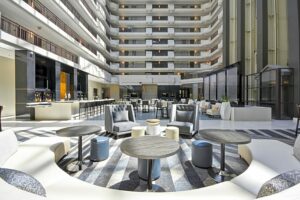 Our Summit Venue: Embassy Suites by Hilton Charlotte, 4800 South Tryon Street, Charlotte, NC 28217 USA
We have a room block reserved for July 27, 2023 through July 30, 2023. Booking your room is simple, just select "Book a Room" by July 7th to receive the preferred rate.
Book a discounted room from our hotel block
Registration opens at 5 pm on Friday, July 28th and plan to join us for a welcome reception starting at 6 pm.
Speakers
The following medical professionals and researchers will speak and be available for questions and answers on Saturday, July 29:
Members of the JdVS Medical Advisory Board:
Dr. Richard G. Boles will share information about Cyclic Vomiting Syndrome
The following members of our community who have Jansen de Vries Syndrome will share their stories during a special dinner presentation on Saturday, July 29: Mollie, Bradley & Tammi
Program
The program is tentative and subject to change.
FRIDAY, JULY 28
5 – 7 pm: Registration
6 – 9 pm: Welcome Reception
SATURDAY, JULY 29
8 – 9 am: Breakfast
9 am – 12:30 pm: JdVS Foundation Welcome and Medical Professional Speakers + Q&A
12:30 – 1:30 pm: Lunch
1:30 – 3:45 pm: Medical Professionals Q&A + Community Networking + Breakout Sessions
3:45 – 6 pm: Downtime (pool, tour Charlotte on your own)
6 – 10 pm: Dinner with Special Program followed by a Silent Disco Celebration
SUNDAY, JULY 30
8 – 9 am: Breakfast
9 am – 12 pm: JdVS Foundation Presentation + Community Connection Activity + Roundtable Drop-Ins
12 pm: Bagged lunches available
ACTIVITIES FOR CHILDREN
On Saturday and Sunday, there will be a childcare / child activities room provided for individuals with JdVs and siblings. There will also be a sibling program on Saturday morning led by adult siblings who are members of our community.
Donate & Sponsor
We need to raise $60,000 in order to make this summit a reality.
Support our community today by making an individual donation or becoming a sponsor.
Donate today – make a note when donating that you are supporting the JdVS 2023 Summit
Find sponsors — download the sponsorship letter
Become a sponsor at one of these levels – learn how

Elite: $25,000
Leading: $10,000 +
Sustaining: $5,000 +
Supporting: $2,000 +
Contributing: $1,000 +
Volunteer
We are looking for volunteers to help during the summit so that the families attending who have young children can focus on the sessions and connecting with each other. If you are interested in volunteering, email jdvsyndromefoundation@gmail.com.
Questions?
Email us at jdvsyndromefoundation@gmail.com