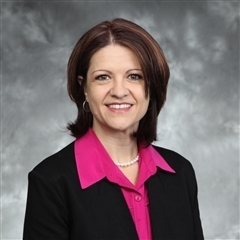 Living in California, Marinda's son, Daniel, has been a patient of Dr. Curry since 2011, when his pediatrician noted his developmental delays early on and started investigating.  Several other syndromes were considered, one being Williams syndrome, but genetic testing ruled out all abnormalities.  In early 2017, Dr. Curry contacted Marinda requesting further testing, leading to Daniel's diagnosis with JdVS later the same year. There was little information available at that time, only one article that described the PPM1D gene mutation. This article prompted the request for further testing.  Through Dr. Curry, Marinda was able to get connected with other families with the same new diagnosis. Recognizing that there would be other parents looking for support and more information following diagnosis, a small group of mothers has been working to raise awareness for JdVS worldwide.
Marinda was born in South Africa, emigrating to the US with her husband, Arno, in 2005. Their first child, Leann, was born in 2007 and is not affected by JdVS. Marinda has a bachelor's degree in Nursing and is currently pursuing her master's degree in leadership and administration. Her nursing background is Labor & Delivery, and she is employed as a Clinical Nurse Leader of Maternal Child Services.
The family enjoys traveling together to visit family abroad and explore new places.  Daniel loves his teachers and friends at school and is eagerly awaiting returning to in-person instructions as he is not a fan of online learning.