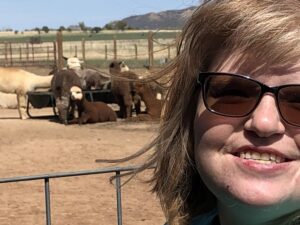 About Mollie: An answer after 42 years
When Mollie and her family found out in February of 2021 that she has Jansen de Vries Syndrome, a 42-year mystery was solved. Prior to this unexpected news, her diagnosis was Cyclic Vomiting Syndrome (CVS) and undiagnosed global developmental delay.  Mollie was a year and a half old at the onset of her symptoms of Cyclical Vomiting Syndrome, undiagnosed for 11 years, and hospitalized every 6-8 weeks for hydration. In 1991 David Fleisher, M.D. diagnosed Mollie with Cyclical Vomiting Syndrome. Over time her CVS episodes became less frequent and severe, most likely attributed to having a diagnosis and Amitriptyline. In 1993, Mollie's mother was the lead founder of CVSA USA, along with Dr. Fleisher and B U.K. Li, M.D. Now at 42 years old, Mollie is free from vomiting, but continues to have down days with headaches about every 2-3 months. 
Mollie was a happy interactive baby, but by the age of 7 months, she was still not able to sit up due to hypotonia. Her motor and speech milestones continued to be delayed.  She started walking at about 22 months. As a baby she was boisterous, very social, but lacked a sense of personal space and appropriate interaction. She required constant monitoring for her behavior and her safety. She started an early childhood program at age 3, and continued attending special needs classroom settings until age 21. She was able to live on a college campus during a specialized 2 year certificate program in independent living, with vocational and tempered academics. 
Among other conditions, Mollie was screened for Williams Syndrome, ornithine transcarbamylase deficiency. But outside of the Cyclic Vomiting Syndrome (CVS), the reason for her developmental delay remained undiagnosed until age 42.  After years of questioning whether there were other factors at play in Mollie's development, Mollie's JdVS diagnosis was confirmed by whole genome sequencing. The news was delivered by her medical geneticist in a 3 hour interpretive reporting. The geneticist has known Mollie and her mother for about 22 years – initially through his work on the Medical Advisory Board of the Cyclic Vomiting Syndrome Association (CVSA).  
Since learning of this new diagnosis, it has been important for Mollie to understand this is not an additional diagnosis. It is her diagnosis from conception, responsible for the mild global developmental delay and likely for her CVS. After 42 years of wondering, we now know that she has a mutation in one gene (PPM1D) on her 17th chromosome in every cell of her body. This gene is responsible for producing a protein needed for cell replication. When replication is compromised not enough new "good" cells are produced causing mutated cells resulting in developmental delays and other manifestations. This is also somehow related to disturbance in the stress-response pathway. Mollie's gene variant is a "de novo" mutation – meaning not from father or mother. It is a random spontaneous mutation when DNA soup is being stirred up in the zygote (early embryo). Mollie's father and mother had full genome sequencing done as well, to determine if the mutation was not inherited. This mutation is not curable at this stage in science, but treatment can be altered based on her genetics and presentation. It is not degenerative.  Episodic vomiting and other gastrointestinal difficulties are some of the most common manifestations of JdVS. In addition to the gastrointestinal symptoms, other common manifestations of JdVS include  intellectual disability, gross and fine motor developmental delays, autism, ADHD and short stature.  
The majority of the 30 characteristics listed about JdVS fit Mollie. The one her family focuses on mostly is "Individuals with JdVS have been found to be extremely social, loving, and outgoing. In other words, joyous and beautiful people to be around."  The rest of the list is uncanny in its diversity; for example – anxiety, neurodevelopmental delay to varying degrees, certain facial characteristics, very small hands and feet, broad based gait, episodic vomiting, gastrointestinal issues, hyper-sensitivity to sound, high pain threshold. 
Mollie's mother is hopeful that there will be collaboration and possibly research between the CVSA the JdVS Foundation.  Mollie, her mother and her sister have enjoyed meeting other individuals and their families virtually.  These have been meetings highly charged with emotion and relief. 
Mollie is gaining understanding of this new information which has been enough to give her significant relief from wondering so often about her "brain disability", as she calls it.  She is becoming less confused and ambivalent about this new diagnosis, especially as she realizes that her day to day life will not really change much at all. This is indeed a new journey for Mollie and her family, and possibly others amongst the international CVSA network.  
Fun Facts About Mollie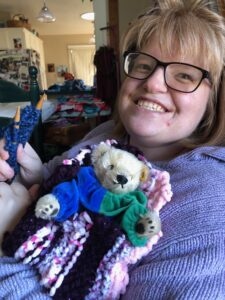 Mollie lives in a townhouse with her much-loved cat, Jasper. She has a special support person who spends time with her. She is very happy to have a job stocking shelves and coding items at Office Depot. You can see Mollie at work in this video: Work's Untapped Resource.  She has recently become an ambassador for the fire department to help people with disabilities learn fire safety.  Mollie receives support services through Community Connections in Durango, CO and the CDASS program.  
She is a very strong self-advocate and takes great pride and responsibility to speak for people with disabilities, especially for those who cannot speak for themselves. This leads to a high interest in elections and interviewing candidates about working for people with disabilities. Mollie is happy to try new things, but only at her own pace!  Special Olympics swimming, biking, baseball, basketball, track and field to name a few. She tried skiing with Adaptive Sports recently, finally breaking through her fear. She loves going to plays and musicals. Mollie says she is "addicted" to knitting little sleeping bags for Beanie Babies. She knits them for her cousins, nieces and nephews and friends. 
Mollie does not like being in meetings about herself or complicated subjects when she cannot understand what is being said.  One of her famous lines is, "Talk to me at my own level."  She doesn't like being pressured to do anything she does not want to do. She does not like mascots who have big costumes, nor does she like spiders or heights.  Her curiosity about people, animals and events is expansive and her memories are long-lasting!